Mavis Bank Coffee Factory Limited (MBCF) is Jamaica's largest fully integrated Jamaica Blue Mountain Coffee Facility. MBCF processes approximately 1million pounds of green beans from approximately 6000 farmers per year. MBCF holds certification in Starbucks C.A.F.E. Practices, Hazard Analysis & Critical Control Points (HACCP) and Safe Quality Foods (SQF).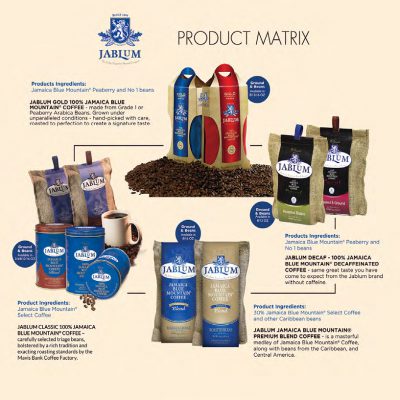 The origin of Blue Mountain dates back to the early 18th century when, in 1728, a few precious Arabica coffee seedlings were brought from Hispaniola by the British Governor of Jamaica. This gave birth to coffee cultivation on the island. One thing had become clear to those who settled in this area – the coffee grown in the Blue Mountain was unlike any other. The Blue Mountains slowly became the focal point of those who began to take notice of the unique special qualities of the coffee produced there.
The Mavis Bank Coffee Factory has historically been central to that continued tradition. We are located in the lofty Blue Mountains in eastern Jamaica in Mavis Bank, a small rural town. We have been in continuous operation since 1923 and dedicated farmers in our community who cultivate the coffee, boast a long lineage between their families – Mavis Bank Jamaica Blue Mountain coffee. While the factory may have grown in size over the years, it has remained true to its origins. Every single cherry is still treated with the same degree of care and patience that has ensured the quality of our coffee for so many years.
All of our green coffee is shipped in Grain Pro Bags. 100% of our export coffee is certified by the Coffee Division (Formerly Coffee Board) of the Jamaica Agricultural Commodities Regulatory Agency (JACRA), and, depending on the grade, are shipped either in 70kg, 30kg, 15kg Barrels or in 60kg Bags. We also produce roasted coffee beans and roasted ground coffee.
CONTACT:
Norman W. Grant, Chief Executive Officer
Tel: 876-977-8530, 876-469-3242
Email address: ngrant@mbcfcoffee.com